Don Domino present at World Domino Collective 2022: toppling 700.000 dominoes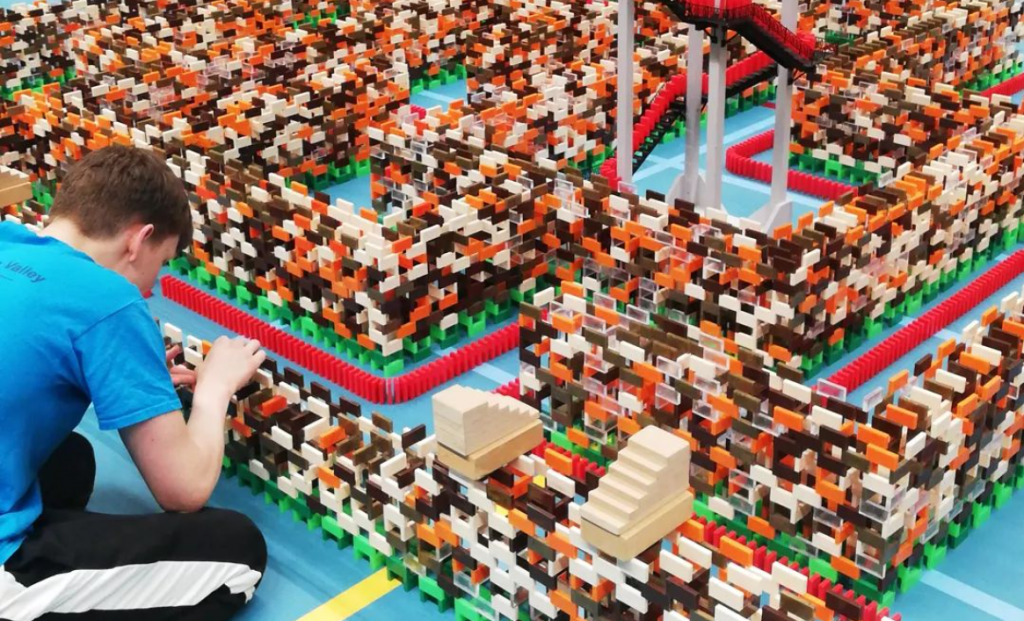 On 19 August 2022, World Domino Collective 2022, the event by Dutch Domino Team (DDT), will reach its climax. After two weeks of building by people from the Netherlands, Belgium, Germany, France and the USA, the big falldown will take place in the Dutch town of Veenendaal.
The team's objective is to break the amateur record, which was set at 596,229 in 2018 by the German collective Sinners Domino Entertainment. An attempt to break this record at last year's event was unfortunately not successful, due to a lack of builders, who could not come to the Netherlands because of the corona measures.
If all goes well, this year more than 700.000 dominoes should topple. Of these dominoes, almost 200.000 were supplied by Don Domino, the main partner of this event. We will also be present at the falldown event, so if you managed to get tickets, make sure to come by and say hello!
This year's theme is called 'Domino Valley'. It is a self-designed amusement park, divided into three sub-themes: space, with bumper cars shaped like little rockets; candy, with bright colors and children's attractions such as classic duck fishing and a bouncy castle; and Maya, with lots of browns.
Many famous domino builders take part in the building. A lot participants in the Dutch TV-show Domino Challenge are present. Also the judge of this show, domino professional and YouTube fenomenon Lily Hevesh, came over from the USA to participate. The same goes for Frenchman Thibault Lesne, French record holder and a judge on the French version of Domino Challenge.
On 19 August, we will know if the 700.000 dominoes all fell down as expected. In the mean time, you can follow @dutch_domino_team on Instagram for daily updates.